HOW TO FIND A DIGITAL MARKETING AGENCY TARGET LOCATION AND AUDIENCE?
HOW DO DEFINE YOUR TARGET LOCATION & AUDIENCE?
It's almost like finding a fish in the sea when you don't research for your targeted location & audience and pitch for your products almost everywhere in front of any customer you know.
The general idea behind defining your target Audience & Location is that you need to know:-
Who you're trying to reach with your message
How impactful your digital marketing agency is targeting your audience
Is that product or service is going to be working in that location or not
They both have their own way of deciding factors for your branding. Let's start with How Digital Marketing Agency Target Audience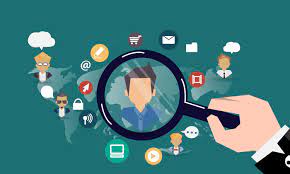 1. TARGET AUDIENCE:-
"Everyone is not your customer" to be most effective in business you need to know who you are selling to.
It's very crucial to find an audience who can relate to the story behind your products & become your loyal & recurring customers for a lifetime.
Learn these points for your

Demography- Age, Target Audience for digital marketing and they are all yours:-Gender & Location
Designation
Professional Pain Points
Professional Goals
Personal Goals
Personal Pain Points
Channels they follow to research & gather information
Books & influencers they read & follow
Role in the Buying Journey- Consumer/Influencer/Decision Maker
Income Bracket
Few Target Personas in terms of Designations
Sales Head
CEO
Sales Directors
Brand Managers
Content Specialists
Marketing Head/Lead/Director
CMO
Marketing Managers
Product Managers/Marketers
Founders
Digital Marketing Head
You have to connect with the above Designation via LinkedIn.
The same has been demonstrated in the LinkedIn marketing modules of Leadership 3 in the lifetime mentoring sessions (Inside AADME LMS)
In a nutshell, any professional in your target industry who is involved in their revenue generation process can be your target.
The best target audience for your digital company is very crucial and becomes fruitful for your business growth.
*Targeting them will be like selling products in your home & you will also come across their pain points very easily*
2. TARGETED LOCATION:-
Running an agency without identifying & defining target location is just like hitting an arrow in the dark.
Thus, you have to deal with it before entering this huge market where many others like you are already ready to grab your fish and eat.
Make sure you know your target location inside and out and then put your best foot forward.
Advice for new digital marketing agencies:
Start with your Local Market
Prospects in your target location will
Same Language
Same Religion
Same Culture value
Common Needs & Aspirations
It's the base to better regulate your business needs in possible time.
Advice for digital marketing agencies already having a market:
Start with the most performing marketing
It will help you to
But initially, I will suggest you target your local area because it's a bit easy to work on your own territory and make a kingdom than directly trying to mark your competitors.
For Example – 1
Starting your consultancy agency business in Jodhpur, you got some recommendations to start your business there and converting those recommendations into success stories for your agency.
For Example – 2
Let's take an example of urban clap started with its small unit in Delhi after word-of-mouth marketing and several referral and recommendation they further open their units in several other states in India and are now the biggest and known company.
So anyway as a digital marketing agency you can target your local market at the beginning of your journey it can be proved as a milestone for your career & reap the following benefits
After understanding all the listed benefits you can skyrocket your business and be able to target the best audience and location for your digital marketing agency.
CONCLUSION:-
After picking up these pain points you are being able to position your digital marketing agency as a solution, and it will ensure that people are more than happy to spend their money with you.
This is probably the most important step when you want to identify your target audience and location with more effective returns.
Combining both, digital marketing target audience & understanding their needs help you to understand them better and make the life of your customer easier as it.