Are you willing to get more clients and orders through digital marketing for catering business but don't know how exactly to do this?
In this article, we have mentioned the most important marketing plan for catering business.
That will definitely help you in generating more profit and brand awareness about your catering business.
So, due to dynamic changes in market and technology demand for catering services is increasing for parties, meetings, ceremonies, and for other occasions as well.
So, digital marketing for catering business is very important. Nowadays many of your clients use digitalized medium to get catering services.
If you are not using digital marketing for catering business there are high chances that your clients would move towards your competitors.
Through the catering business, you can earn in lakhs. But, there should be predetermined marketing plans and digital marketing strategies.
Strategies that you can use for your catering business:-
Create a website
For each and every business having a website is a must. Without a website it becomes difficult to get connected with your prospective clients and to provide other necessary services and information.
Having a website for your catering business with a well-designed presence help in attracting more and more clients.
Through your website, you can reach a large customer base, increase your credibility as credibility play an essential role in digital marketing strategies.
A source of cost-effective way of advertisements, get reviews for your catering business, target to particular demographic & group of people.
Creating a website is an important part of digital marketing strategies with all the necessary information such as:-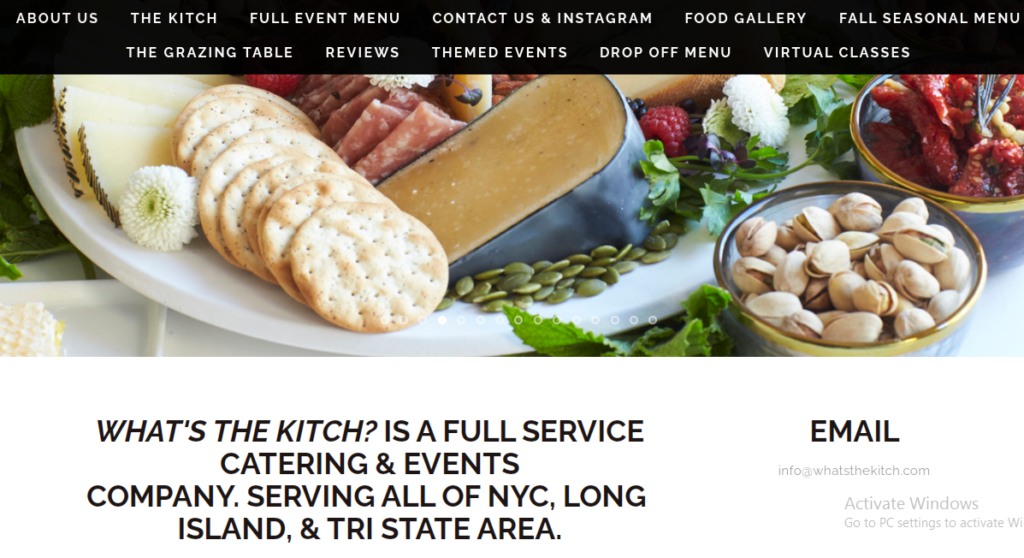 On the contact us page complete information should be given regarding location, address, email, phone no, etc. for orders, queries. So, that other parties can contact you.
In the blog section write articles related to the problems, doubts and the questions you get from your clients. Write about various topics related to the catering business that would help in Search Engine Optimization (SEO).
To get the contact information of your leads landing page is required. Through the landing page, you can retarget and target the audience with specified demographics by the help of paid advertisements and SEO.
To seek attention landing page must be easy to navigate, include a call to action, well designed and relevant to ads & keywords.
The Service page includes information about the services provided to your clients with predetermined charge and offers in your catering business
The website must be user friendly, include all the pages with complete optimization. You can use various marketing tools like Google analytics, Google console, and other plugins that are required for catering business website for attracting clients to get orders easily.
Local Search Engine Optimization (SEO)
The Catering business is a local business because usually you get orders from your local area and nearby area.
You know, local SEO help in reaching out to your nearby clients as 46% of Google searches are from local clients and customers.
Engine Optimization involve various tasks that should be combined in the process.
Whenever, anybody searches it your pages should be rank at the first position in the SERP(Search Engine Rank Page).
Some of the most significant tasks are:-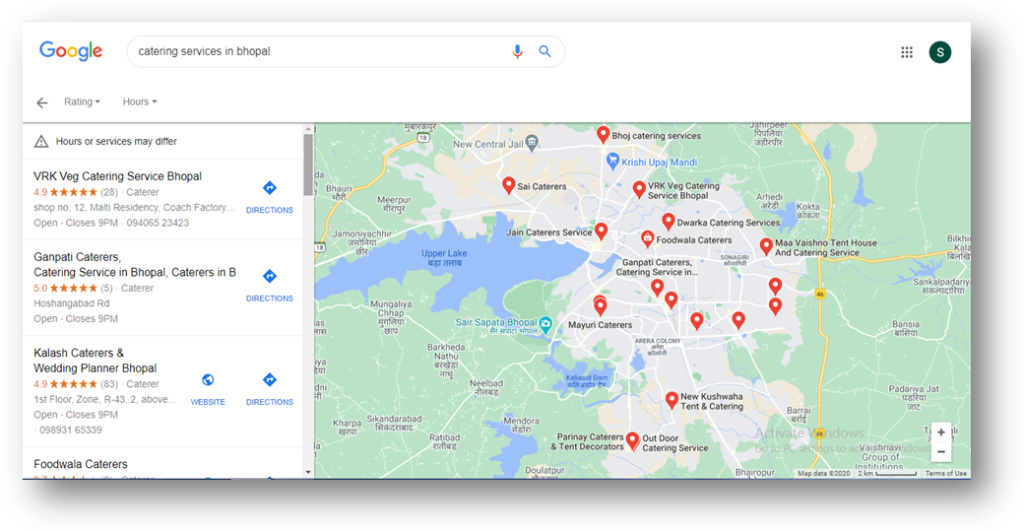 A Search of local keywords for writing content on your website.
Running PPC (paid per click) advertisements and Facebook advertisements according to the marketing plans for the catering business.
Create an account in Google my business and optimize it with the relevant keywords and necessary information. It helps to get rank and listed on the first page of SERP(Search Engine Rank Page) for the catering business.
Create backlinks for the website pages with on-page and off-page SEO techniques. Like internal backlinks, competitor's backlinks, directory submission, backlinks from social bookmarking sites, Collaborate with other local bloggers, etc.
Share blogs, posts in your social media account, other information, and updates regarding your catering business.
Get reviews from your local catering business clients.
Use marketing tools to engage with a prospective buyer of your service and fabricate. An effective website by analyzing your digital marketing strategies. Use tools like MozBar, yeast SEO, Facebook pixel, SEMrush, Ahrefs, Buffer, Grammarly, Google analytics and Google console and VPN, etc.
Use Social Media
There would not be any business that don't use social media and don't know the advantages of social media in their marketing strategies.
To clarify, Social media marketing for catering business helps your catering business. It helps to get engaging with a large number of followers through social media, gaining credibility for your business.
Its an effective way for communication regarding any new update, product quality, reviews, brand awareness, etc. Its create a source of indirect traffic to your catering business website.
In addition, marketing plan for catering business using social media have so many advantages in addition to the benefits given above.
You can get inspiration from your competitors from their social media marketing plans for catering business.
Through your competitors, you can learn many strategies for your business.
The goals of both parties are the same, and working on achieving the same objective for their catering business as well.
Create goodwill and reputation of your catering business on social media and drive traffic of your leads to your website.
Through social media, you can create a large network for your business. It helps you in your long term digital marketing strategies.
Building a network and engaging with people open doors for many opportunities in business.
So, you can provide various services in the catering business with the prior ones to your clients.
Your social media will give straightforward and accurate information about what is your work, what services you provide in your orders, experiences and about your story.
Hiring a social media marketer would help you in increasing brand reputation.
Similarly, it help to get followers, likes, comments, networking around your niche, competing with opponents, and so on.
Run paid advertisements
If you are thinking that what is the need for paid advertisements as traffic could be driven through SEO. But it would not be a better option.
With SEO you can get traffic but it is a time taking process. In the case of paid advertisements you can achieve your targeted goal in a few days with accurate results.
Nowadays almost every person is searching on Google for services and products and wants to get it without putting many efforts and at a reasonable price with best quality.
In the same vein you must ensure that when they type for catering services or catering business your page must be rank on the first page of SERP.
The two most popular paid advertisement that you can use is PPC (Pay Per Click) and Facebook ads in your marketing plan for catering business.
PPC ads would give you a high rate of return on investment. It shows your advertisements to the right group of people defined by you at right time.
Through PPC ads you get quality leads and a high conversion rate for your catering business.
Through Facebook ads you can target to different categories of the audience who would be your prospective buyer.
Before running paid advertisements your budget, audience and buyers persona should be defined with different ad copies.
But, if paid advertisements use with well-formed marketing plans then it could maximize the profit of your catering business.
Conclusion
In Conclusion, a proper marketing plan in the light of foresightedness could give profitable results for your business.
So you can grow your business with accurate and effective digital marketing strategies for your catering business with us.
On the other hand there are so many opportunities for this business the only need is to realize them. Use those opportunities with proper management and plans.
Author Bio: Somya Ahuja is a passionate Digital Marketer and Blogger. She helps business owners to get more sales through Digital Marketing strategies. She is also an Alumnus of AADME.