There are selected and must-do tips of SEO for an amazon affiliate site, made for those who never try SEO for an amazon affiliate site. The implementation of SEO can help you to achieve the position you want to acquire in the Google search engine. SEO is also called search engine optimization is needed for all niches on which we write blogs or articles.
Have you ever thought about why your site is not able to rank on the first page of Google?
Your website without traffic is worthless. Without SEO your organic search results are subject to fate.
Try SEO in order to get the right traffic flowing in consistently and take your website to new heights as it will be able to obtain quality traffic.
Tips of SEO for Amazon Affiliate sites
The following suggestion is generated with our huge or long experience.
This worked for us and others also. We believe, this works for you also if you can implement it in the right ways.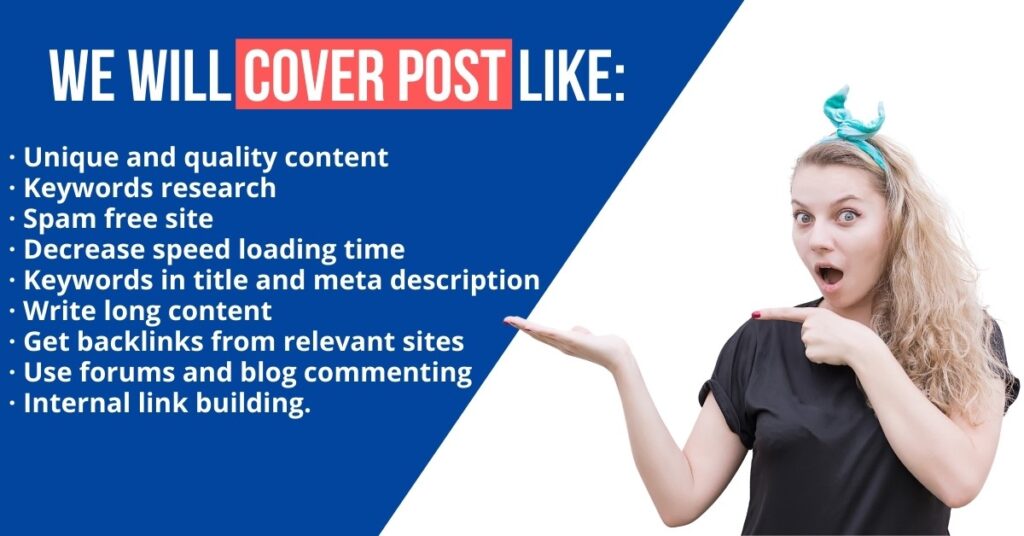 We will cover post like
· Unique and quality content
· Keywords research
· Spam free site
· Decrease speed loading time
· Keywords in title and meta description
· Write long content
· Get backlinks from relevant sites
· Use forums and blog commenting
· Internal link building.
Unique and high-quality content
If you want us to tell you only one SEO suggestion it would be producing quality content.
This serves the purpose of both the ends of the users and Google. As a product itself, google always want to show the results that have the best match of the search queries.
On the other end, users admire those site which contains a correct answer or solution. You can also write high-quality content for amazon affiliate keyword search for that amazon affiliate.
Only quality contents meet requirements for both parties if you have an affiliate store then you can also do an SEO for the amazon affiliate site.
Do keyword research
Keyword research is one of the most important parts of a complete SEO campaign.
If you planning set everything in a right place after doing keyword research.
To do research you need tools like Google keyword planner or uber suggest which is free and for those who have a store of amazon affiliate keyword research is the 1st step of every blog of product.
You can go with ahrefs or SEMRush but this tool is a paid tool purchased if you have a sufficient budget but for deep information of off-page SEO required you have this tool in the working process.
Keep your site spam free
Spams always affect your site's performance very badly. In several ways, spam may infiltrate your websites.
Untrusted plugins, fake links, unknown links, and many other sources are known for spam doors. Most people spread a spam link through comments.
There are many plugins but one plugins name is anti-spam WordPress plugin can save your site from attacked by spam.
Nowadays most people have a website on their most favorite niche but they don't know what process takes place behind the screen so work on SEO for the amazon affiliate store is like an eCommerce and then your site becomes spam-free.
Decrease site loading time
Do you know site speed plays a most imp role that will lead you to make your site or love by more users? site speed not only love by users but also Google loves the site that appears fast when user visit your website for the first time, you can decrease a site loading time by doing SEO but can also do SEO for affiliate sites to decrease site loading time.
If you don't know how to increase your site speed then check your site with developers.google.com, and then resolve all your problems of site speed.
As you know the world's biggest e-commerce site is amazon affiliate SEO they also do for decreasing site loading speed.
Include keywords in title and meta description
You know, The keywords on which you are working should be mentioned in many places. SEO title (titles that show on the search results as a blog headline) must hold your focused keyword.
Users always will know that that's the thing they are looking for in the article and Google would be happy to display your article.
Some of the users don't know how to use keyword in title and meta for example
SEO for affiliate marketing is a keyword.
The meta description is the summary for your blog content which is written within 150 – 170 words and it's appeared right under the title on the search page.
Write long contents
Many research found that long posts have a higher chance to rank top on the search engine. Similarly, a big post also allows including more focused keywords and secondary keywords and make the content-rich.
As long as the content of the blog provides value to users. Make sure you are filling your user's thirst for reading and gaining knowledge.
The best article length should not be under 800 words and keep in under 2000 words in every article. As u know content is king nowadays and also SEO for affiliate marking of any blog or product.
Get backlinks from the relevant site
Relevance is one of the key takeaways when you are working on backlinks. Don't rely on the inundation of backlinks but thinks that it could uplift your blog post to a much higher position.
As u know? Taking backlinks is not harmful as long as you are getting from the relevant blog article, on a similar niche. Some affiliate marketers doing SEO for the affiliate marketing site.
Use forums and blog commenting
As you know? Users forum and blog community is a part of off-page SEO and it is a lively place where the people interact more with other people.
If you think your website has the right answers to the questions forums. Members ask – do hesitate to mention it there. Always read rules before commenting and commenting on a blog post is an old but effective way to always get huge traffic by off-page SEO.
This is not for getting casual links but comment on the blog post article to get some attention on your site. Most of the digital marketer do off-page SEO by commenting on the website and also do SEO for amazon affiliate sites.
Internal link building
Internal linking is an effortless technique that makes your site not only stronger but also can not charges single rupees.
During writing a blog post you know what another post can be mentioned in an article. Internal linking helps you to make a website healthier and maintaining a top on the search engine.
As you can gain a reduced bounce rate and more engagement as the added benefits.
As u know every blogger or article writer does an internal linking for better SEO for affiliate sites.
Conclusion
SEO plays a very important role to rank your website on the 1st page of the search engine. Show start learning on-page SEO, off-page SEO, local SEO, and technical SEO for amazon affiliate sites.
SEO is the important key in ranking your website on the first page of google presenting upon search engine ranking page.
So start implementing the strategies of On-page SEO, Off-page SEO, Local SEO, and technical SEO for amazon affiliate sites.
I hope this blog was helpful for you if you have any queries feel free to connect me on jaisinghpal1993@gmail.com.
Don't forget to express your views in the below comment section.
Author Bio-
Jai Singh is a passionate Digital Marketer and Blogger. He helps small and mid-sized companies to generate leads and sales through his SEO strategies. He is also one of the Alumnus of AADME.