If you are a freelance web designer or web designing agency you might have faced the problem of work and the only question that comes into your mind is how to get high-paying web design clients or How to get web design Clients fast.?
Well, finding web design clients is not an easy task for freelancers and even agencies sometimes. In This blog, I will share fundamental principles on how to get high-paying web design clients. Which is really works.
This Blog is going to be a complete guide on how to get high-paying web design clients.
Good News!
The good news is that there is tons of work available on the high end of the market. All you need to know is how to get web design clients.
In this post, I will show you how to get website design clients who can afford to pay a decent price for your work. Let's talk about it!
The persona of High Paying Web Design Clients
If you are thinking about how to get web design clients or looking high paying web design clients, then you had had a good understanding of your client, yes, you are right I am talking about targeting those people or organization who has a good or big budget for work, this is the key of getting website design clients. Here the question arises how can you decide, which client has a big budget??
Well, for that you have to target the decision-maker of the company. Key decision-makers in large enterprises and corporations that generate thousands of dollars in annual revenue. These are the only people who can afford to spend five or six figures on their website design projects.
Who can be your personalist?
CEO
Marketing Manager
Sales Head
Founder
Regional Manager
Operation Manager
CMO
Directors
Some Challenges
When you target a high-paying web design client, you might face some challenges. These big businesses tend to operate in a very different way the small and medium level enterprise. Here are some key differences to consider.
Their might have more than one decision-maker – when you targeting company, you might be working with multiple people.
They can be more discerning –The top clients show, tend to be more meticulous in reviewing applicants.
Might have already website – High-Paying clients tends to have an existing website they want to update or redesign.
Usually want a custom-built website coded from the ground up. Clients with bigger budgets aren't looking for a basic WordPress site that relies heavily on themes and plugins. They probably want custom-built solutions that meet their specific needs.
If you want to know how to get more web design clients you'll need to change your marketing strategy and sales approach. Pitching to small businesses that want a quick-and-dirty website is one thing, but pitching to big brands with large budgets is a different game.
How to get web design clients?
Now that we've explained why you consider these types of clients, let's see how to get website design clients. Here are some tips for how to get web design clients fast.
Re-design Your Website – A new customer base need a new website for your services. If you are still running the same website that you created when you started as a web designer,
It may be time to upgrade. The goal is to position itself as a premium web designer for the elite segment of the market. An ambiguous or ambiguous brand portfolio does not help with this.
Then update the service and pricing page. It is important to identify your ideal customers and the services they need.
Re-design Your Marketing Strategy – Advertising for high-value customers is different from advertising for small businesses.
For example, running a Facebook ad campaign may help reach small-medium business customers, but may not work for large enterprises.
Focus your marketing efforts on the channels where business leaders and executives spend their time.
For example – Promote your services on LinkedIn, is the social media platform of choice for many professionals. So it's a great place to network and network with new clients.
Work on your positioning. – Your position in marketing is the position you occupy in the minds of your customers with respect to your competitors.
In other words, it represents the consumer's perception of the brand. So, if you want to attract high-paying customers, you must position yourself accordingly.
One way to do this is to carve out a niche. This means that you are targeting a specific industry and have established yourself as an expert in that industry.
For example, you might position yourself as a Saas-based website web designer or a hotel website designer expert.
Being an expert in a particular field means you can justify a higher price. Moreover, people can pay more for specialists than for generalists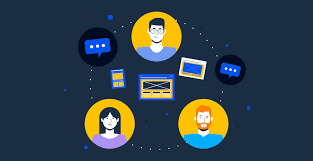 Bottom line
Other than getting new high-paying web design clients, you may also try to upsell the existing clients who already have small websites running at a low budget. This can also serve as an answer to your query i.e. how to get high-paying web design clients.
Conclusion
There are many high-paying customers with budgets who are willing to pay your price.
Working with a more established company will not only put more money in your pocket but will also help you build an impressive portfolio and advance your career.
Here is a summary of the fundamental principle for attracting high-paying web design clients..
Refresh your website and portfolio, include social proof, and bring your services to market-leading standards.
Re-design your marketing strategy and target channels that help you reach high paying customers.
Strive for positioning by targeting a specific industry and establishing yourself as an expert in that field.
I hope this article is helpful for getting high-paying web design clients.