Do you want to know the unpublished secret on how digital marketing of agricultural products will help you to increase your revenue if you are implementing the methods of digital marketing in your business?
When you transform from marketing to digital marketing, there arises a new marketing plan for agricultural products and then there is a need to implement a new marketing strategy for agricultural products.
Well, you might not read a well and detailed blog on the internet about digital marketing of agricultural products and this might be inceptive for you.
When a new method needs to implement you need to be sure of when what, and how are you going to implement Digital marketing of agricultural products in this blog which will not only give you an insight into how to implement but also how to plan and strategize.
There is evolution going around the marketing techniques and methods, this evolution of marketing is digital marketing.
You might be wondering, how is it going to help in the marketing of agricultural products.
Earlier even I was in the same position as you are, but now looking at the growth of digital marketing I would certainly say that digital marketing will be one of the most important marketing methods and techniques.
Let me share some interesting facts for you about digital marketing revenue in recent years.
From the above graph, you can see the growth of digital marketing and in the coming years, the growth percentage is definitely on a higher percentage.
Even though digital marketing has evolved and is growing at a rapid pace as shown in the above graph but this growth is only digital marketing in all industries put together.
But if you look at statistics of digital marketing of agricultural products or in general the whole agriculture industry, the agriculture industry has the lowest adoption rate of digital marketing at 78% when compared to 88% across all industries.
This in no way means I say that the agriculture sector is very slow to adapt but it just shows the opportunity in digital marketing of agricultural products, particularly after the Covid -19 pandemic it is a gold mine and going to reap high rewards.
But why is the agriculture industry lagging behind the digital age?
There are many reasons for it.
One of the main reasons is because the businesses are not willing to try the new method of marketing or in fact, some might even not have a marketing plan for agricultural products outside their town or city but just the local market.
Some might be with a misconception that why digital marketing for small businesses?
My friend, there is no small, medium, or big for digital marketing. Digital marketing is for all and it is the need of the hour.
There is a lack of education or to be precise to say the lack of knowledge on how digital marketing will help their business to thrive through the new age of marketing.
Because Businesses do not know about digital marketing, they would not know how cost effective it is, also there is a misconception on whole, that marketing is costly.
Yes, I do agree marketing is costly, it might surprise you.
Traditional marketing is costly, not digital marketing.
As the matter of fact, digital marketing yields more ROI (Return on Investment) than traditional marketing, and also its ability to market your product and reach a vast audience is faster and better.
Digital marketing in the agriculture industry has not been so popular, but agricultural industry businesses are missing out on the golden opportunity to market their products not only to local and national but to a global market.
There are many countries which are solely dependent on importing agricultural products from other countries, just imagine the revenue you will generate if your business reaches globally.
So, Let's get straight into the list on how to do digital marketing of Agricultural products
1.Website
The website is like your Business premise on the internet; it will promote you 24/7 and 365 days.
By investing in a website, you are building your brand on the internet.
The website is where your clients will visit and build a brand in the digital space to attract more clients.
Build a modern website to market your agricultural products with clean and focused content because people visit your site to take action and not see your web art, but yes, the design does matter but not extravagantly design-focused. A site that is easy to use will have more website traffic than a site which doesn't attract a visitor.
A tip for you, the first impression will do wonders for you; design your website in a way you market your products
2.Social Media Marketing
Social Media Marketing is very vital in this digital world. On average, a user spends nearly 3 hours per day on social networks.
Data Source: Hootsuite
People have this misconception that social media was introduced to connect with your closed ones who are far from you and build a close relationship with them.
But those were the initial days when social media channel was introduced. Now, it is also used for online marketing.
when everyone is using social media, the audience lies in social media. This where you have to utilize the power of social media to the utmost level and it is the best way to build a relationship with a global audience for the marketing of agricultural products. Just like how you build a relationship with your family or friends who are far from you.
A tip for you, market your products on a social media platform like Facebook, Instagram, Twitter but before you market your products, know your audience on which platform are they active.
3.Email Marketing
Does it remind you about email coming from an e-commerce website or any mail coming from a business where you have done your shopping or a delivery business platform where you have ordered food?
With all the new inventions, social platforms, rise of video content around, it may be weird to say email marketing is the cheapest and effective way of marketing.
Don't neglect it; recent data shows that the US's email user is at 90.9%, beating online search engine, which stood at 85.4%.
Data source: DMA (2019)
For every $1 spent, email generates $42, with a whopping 4200% in ROI. If used effectively, you can squeeze the best out of email marketing because it is a personal way to reach your clients.
There is much more to explore in email marketing like personalization, putting out the right content in the email, automated email, and implementing the different strategies.
4.Paid Digital Advertising
You might be familiar with Paid Advertising.
Have you seen an ad commercial running on television?
Yes, it is the same way but on the Internet.
The best outcome of paid ads is to run a targeted ad to your potential clients, unlike traditional ads.
Paid ads are very cost-effective and targeted to potential prospects.
Paid Digital Advertising is of 3 types
Search Ads
These are known as paid search or search engine marketing.
The ads appear on the search results page of the user. It is a way of beating your competitors and staying on top of the search engine results page

Paid Ads uses the PPC model of advertising, when every time a user clicks on your paid ads, you pay the search engine for traffic generated for the particular page
Social Ads
Social Platforms like Twitter, Facebook, Instagram, etc. will help you promote your business by paying on these platforms.
Data Source: Statista
The above graph shows how social media ads spending is expected to grow from 89 billion to 102 billion and a more intriguing fact is that after the present pandemic it is going to increase more.
The advantage of Social ads is, it targets potential prospects directly.
With Social paid ads, you are likely to have efficient targeting by using a call to action buttons and generating the necessary data required for tracking and analyzing to get more relevant results.
Display Ads
These ads appear on top of the website or section reserved to display paid ads in banner ads or videos by using a call to action.
Display ads are very aggressive ads displayed across millions of websites. Search engines share your ads to the website based on the targeted preferences.
You can find this type of ads in the news portal websites or website where there is a relevant web traffic
5.SEO (Search Engine Optimization)
Why SEO?
The first thing anyone wants to do on the internet when trying to find out what they need is to go on to the search engine.
According to the Bright edge, organic search dominates the website traffic at 53%
You need to invest in SEO, and SEO is Vital in the digital marketing of agricultural products.
What SEO does and why SEO needs to be part of the marketing strategy for agricultural products?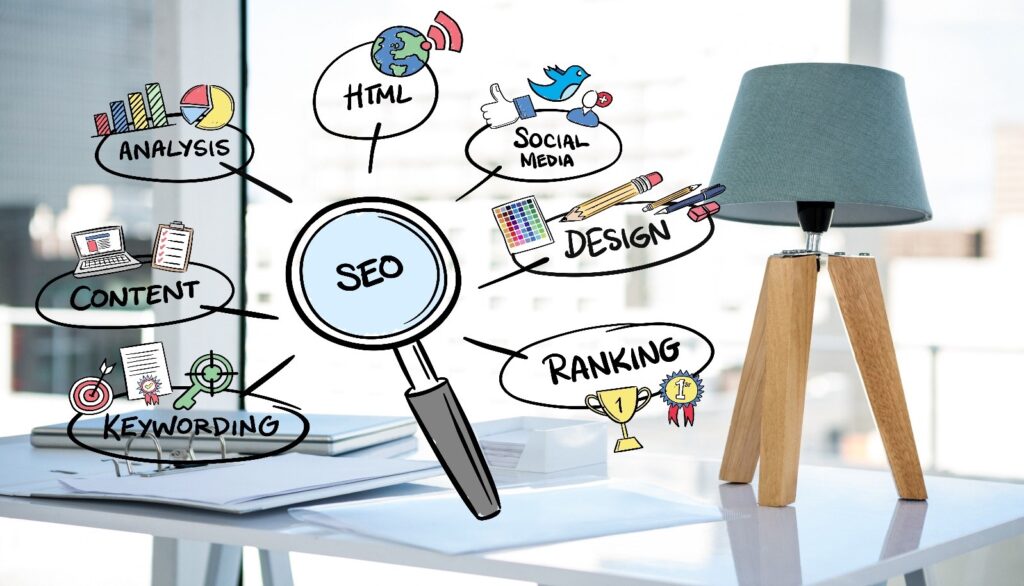 SEO is putting relevant keyword of the business and ranking a particular page on the search engine which gives your business recognition in the online market and increases you web traffic which gives your business credibility in the market and this involves a lot more effort and time to rank on top of the page but it gives you a long-term reward which will directly benefit your business in terms of sales and revenue.
Search engine optimization is a long-term strategy but once done; you will reap the rewards.
Any Search engine would like to make the user experience comfortable and easy to use, so the search engine has some criteria.
To fulfill those criteria, you will need to do back-end work to make your page visible on the search engine's top pages.
Make sure you don't miss out on SEO.
6.Mobile Optimization
Web browsing took to a whole new level in 2006, when mobile browsing overtook desktop, and it is continuing to rise.
So, what does that mean?
It would be best if you changed accordingly.
Optimize your website for mobile users.
Website design for mobile and desktop differs a lot as mobile has less screen space, call to action buttons, layout need to be according to the mobile screen.
Optimizing to mobile-friendly is one of the most crucial marketing strategy for agricultural products.
7.Video Marketing
Videos will be the most attractive way of marketing in the future. People tend to like video content more.
Social Media platforms like Instagram, Facebook, YouTube, Snapchat, and many more promote video content, and your potential clients or customers are on these platforms, which enable them to consume your video content.
Around 92% of marketers are in the view that video is an important marketing strategy in 2020 compared to 78% in 2015. It gives insights into why you need to create video content and promote it to gain your potential prospect's attention.
Video Marketing is an essential form of marketing and you must consider it for the marketing of agricultural products. It is one of the best ways to promote your content, and your potential prospects might come from the content you publish.
8.Content Marketing
The most important of all when it comes to online marketing is content marketing.
"Content isn't king; it is the kingdom."
The purpose of content marketing is all about storytelling and the better the stories you tell, the more the audience you get; as simple as that.
This is the reason why movies like Taare Zameen par, 3 idiots, Swades were so popular.
Creating a website, social media channels, and providing the necessary basic information about your business, practices, services, and contact information are not enough.
It won't be inducing your potential prospects; there should be a useful resource in it; just to make your online presence felt is not the sole purpose.
Content Marketing is a long-term strategy, which focuses on building a strong relationship with the targeted audience and delivering them high-quality content which is useful to the audience regularly
The Basis of Content Marketing is to build a relationship with existing and new clients.
You must include content marketing in the marketing strategy for agricultural products
Conclusion
Digital marketing of agricultural products can help you cost-effectively to reach a new height.
Now that you know the benefits of digital marketing for agricultural products. All you need to do is invest in digital marketing and implement these strategies and tips to get the best results.
The Sooner you start your digital marketing of agricultural products better the results you will gain from it.
And if this sounds difficult to handle all these strategies and tips while also running your business, we can help you to make your life easier!!
At digital 365, we can help you with our Customized Digital marketing plan for agribusiness to target your ideal audience.
Feel Free to connect to me at sharfanahamed7@gmail.com to know more about digital marketing services.
Do feel free to give your opinion in the comment section and share the blog with your needful peers.
Author Bio
Sharfan is a passionate content writer and Digital Marketer. He loves writing blogs on agricultural products and helps to take the agriculture industry to the next level through online marketing. He is one of the alumni of AADME